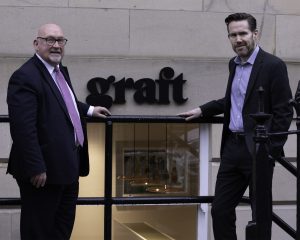 Jim McCain, Director of Graft (left) and Steve Wilson of SSE Renewables.
Graft expands to 243 West George Street, as energy company, SSE Renewables on behalf of Dogger Bank Offshore Wind Farms, has taken its entire 5,188 sq. ft. lower ground floor.
SSE has already taken occupation of the fully equipped Graft space. Originally created as a shared business members' co-working space, the Graft concept will now re-launch in the New Year either in the existing building or in a new location.
Graft co-founder and director of City Site Life, Jim McCain, said: "When we launched the Graft concept at our building in West George Street, we had expected that it would be shared as a co-working business members' space between several firms; however we are absolutely delighted that such a major corporate as SSE has snapped up the entire Graft floor just weeks after its launch.
"Our Graft concept remains an active priority for us and we have plans to extend either in the building or elsewhere in Glasgow. Graft will continue to attract mobile businesspeople, consultants and freelancers, and we will ensure that Graft will retain the unparalleled standards that we have set."
Steve Wilson, Project Director at SSE Renewables, said:
"We are hugely impressed by the Graft offer and decided very early on that we wanted to operate from the building. The quality of space and the working environment that has been created is of huge appeal to the members of the project team and also our Joint Venture partners. We were given the opportunity to trial the space before we made a commitment and the level of service we have received since we took occupation has been exemplary. The fact that we are able to speak directly to not only the owners of the building but also the operators of Graft has been hugely beneficial and enabled us to move quickly."
SSE Renewables will initially set-up and run their Dogger Bank Wind Farms project from the space which is the world's largest wind farm project.
https://doggerbank.com/downloads/CfD-results-press-release-FINAL.pdf
Graft offers a turnkey solution to any business looking for additional workspace, please contact info@graftlife.com, or if you want to speak to the Graft team directly, please phone the office on 0141 319 4990.
241/243 West George Street, is a Grade B listed building and offers 22,000 sq.ft. of 'Grade A' office accommodation in the heart of Glasgow's Central Business District and combines traditional 'town house' architecture with a contemporary, high-specification service and interior set behind the listed facade.
The rest of the building is also in high demand, with a fledgling FinTech company also signing up recently to take the entire first floor.
Agents for 241 West George Street are Ryden and Avison Young.